Latest Comic:
idfracture: Page 100. Vol 1 END
Welcome to IDFracture.
Hello Everyone! First we'd like to point out that if you're looking for mmgaysex, you ain't gonna find it here lol. We will not label this comic as BL or HET or GL because it doesn't matter, it's not the point of this story. What is this comic about? Well, it's hard to sum it all up in a sentence or two, so you will just have to read to find out! But we should mention that however generic it may appear to be (especially at the beginning) you will probably be surprised at how it unfolds. Please be patient with the story 8) There is a lot of it, and we're trying to slowly lay it all out!
Clearing up the confusion
Hey guys!!! I know some of you might be confused as to what's going on with the page updates!

So basically a bunch of pages were uploaded and set to go online at time intervals, but smackjeeves
dun goofed and uploaded everything at the same time, and also a few pages didn't get uploaded at
all. As a result everything got kinda messed up, so we're just reuploading stuff steadily! Also I'm in the
process of printing the first volume, more info will come soon! <3

Thanks sooo much for all the comments/support, guys!! <3 ;o;

Also, i think the smackjeeves layout on the idf page looks like shit, and if anyone is kind enough to
volunteer to help make it look better i would be forever grateful! ;A;
posted by IDFracture @ January 8th, 2012, 6:58 pm 0 comments
Page Updates!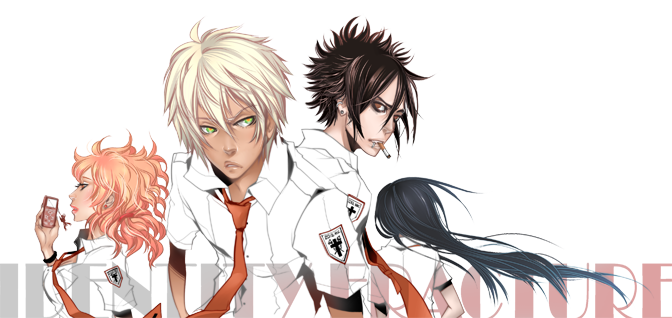 Alright guys, [Innelle here]
CoS and I have been working hard to bring new and improved pages to you all! Tomorrow I will be adding the last page of the chapter. In the coming week I will be going over the next chapter pages and reworking them. I will also be extremely busy with some school stuff so please bear with me, I'm going to try to produce the pages as soon as possible!

we've been reading the comments and I'm personally really excited to see our comic on the hot and upcoming page!

And last but not least, tell your friends about us! Tell yo mammas and yo papas and yo dawgs![and cats too. we do love cats]

IDFracture is © of Innelle and Cosmic Spectrum.
posted by IDFracture @ June 23rd, 2011, 10:28 am 2 comments